School House System
The school aims to promote a well-rounded education and healthy competition by dividing students into four houses. Upon admission, each student is assigned to a house, with the goal of fostering positive character traits and developing a sense of community spirit among students.
The four Houses are:
a) Ganga Maroon Colour
b) Narmada Blue Colour
c) Mahanadi Yellow Colour
d) Krishna Green Colour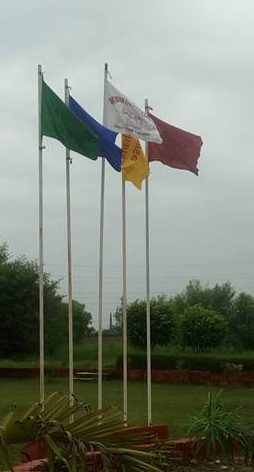 The school has a House Mistress or House Master to oversee each House and its affairs, with assistance from teachers. Additionally, each House is led by a House Captain and House Prefects, who are chosen from among the students to manage the day-to-day operations of the House.
Vision Global School regularly organizes interhouse competitions covering various areas like music, dance, debate, quiz, and games & sports, amongst the four houses. These events provide students with an opportunity to showcase their talent and skills in different fields. They are an essential part of school life and promote healthy competition, teamwork, and a sense of belonging and community spirit among the students.
Participation in these interhouse competitions has numerous benefits for the students. It helps to develop their confidence, self-esteem, and social skills. It also promotes leadership qualities, decision-making abilities, and communication skills. These events also provide a platform for the students to learn new things, explore their interests, and develop a passion for various fields. Overall, interhouse competitions play a significant role in shaping the students' character and helping them achieve their full potential.
School Song
A school song is an integral part of any school's culture, representing its ethos and values. Our school's song is a beautiful representation of the values we seek to instill in our students. It conveys a message of inclusivity, love, and respect for all of humankind. The song emphasizes the importance of upholding what is right, being steadfast in our faith, and standing alone if necessary.
The chorus of the song speaks to the need for a vision, a shape of things to come in our global world. It inspires students to look beyond their immediate surroundings and consider how their actions can impact the world at large. The song also acknowledges the importance of seeking grace and strength with a humble heart and mind, promoting the values of humility and charity. The school song serves as a reminder of the values we seek to instill in our students and the vision we have for their future.
1. Let all we learn Here in our school
Be seen in thought and deed
And seeds be sown here in our school
To love all humankind
2. Chorus:–That we may have a VISION
A shape of things to come
In this, our global world
3. Thy grace we seek
With a humble heart
To learn true charity
And love for our motherland;
Her people far and wide
4. Thy strength we seek
With a humble mind
To uphold what is right
Alone, though we may stand
Steadfast in our faith.