House System
In order to realize the highest ideal of education and nurture the sterling qualities of well-rounded personalities and inculcate a healthy competition, the school has been divided into the following Four Houses, every student on admission is placed in one of the Houses –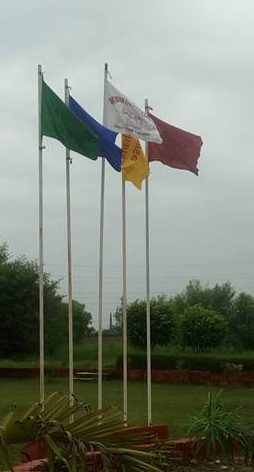 a)  Ganga           Maroon Colour
b) Narmada      Blue Colour
c) Mahanadi     Yellow Colour
d) Krishna         Green Colour

Each House is supervised by a House-mistress / House-master for various affairs who is assisted by teachers and students in managing the day-to-day commitments. Inter-house competitions are organized in Sports, Dramatics, Debates, Quiz, Art, Music and Dance, etc.

School Song
1. Let all we learn Here in our school
Be seen in thought and deed
And seeds be sown here in our school
To love all humankind
2. Chorus:–That we may have a VISION
A shape of things to come
In this, our global world
3. Thy grace we seek
With a humble heart
To learn true charity
And love for our motherland;
Her people far and wide
4. Thy strength we seek
With a humble mind
To uphold what is right
Alone, though we may stand
Steadfast in our faith.